Last updated: July 29, 2021
HubSpot offers a full platform of marketing, sales, customer service, and CRM software, so it may seem counterintuitive to be looking for HubSpot integrations with external tools.
But the truth is that these days, all great big software platforms acknowledge the power of letting customers pick and choose their own tools, especially when it comes to software that involves different departments and teams.
Perhaps you only use HubSpot CRM and don't want to spend the big bucks on HubSpot's marketing suite or sales sequences. Or maybe you'd like to integrate your already excisting emailing and calling software with HubSpot. That's where HubSpot integrations come into play.
What does HubSpot integrate with?
The HubSpot App Ecosystem can be overwhelming to navigate. It features over 500 integrations that work with different parts of the suite.
In this article we'll review 8 of the best HubSpot integrations tactics that will help you increase sales productivity and streamline workflows.
Warning: this is not your average listicle featuring all the superficial connections with the most popular SaaS tools like Slack, Zapier, Eventbrite, Salesforce or Surveymonkey. In this article, we look at ways you can actually power up your sales and marketing productivity and drive more sales.
All it will take is automating the mundane and repetitive tasks, making sure nothing falls through the cracks and connecting the key sales enablement tools.
You ready? Time to get your HubSpot CRM powered up by:
Automating lead capture with web form integrations
Sending automated marketing messages with marketing automation integrations
Syncing HubSpot with your inbox with email inbox integrations
Accessing the power of LinkedIn outreach from within HubSpot
Syncing conversations from social platforms with social media integrations
Ensuring smooth calling with calendar, calling software, transcribing integrations
Creating beautiful proposals and quotes with sales document software integrations
Let's jump right in.
1. Automate your lead capture with web form integrations
Let's start with the basics. You have to collect your new leads somewhere and web forms will do this for you. Just make sure that these integrate with HubSpot CRM and your database will get populated automatically.
There are several integrations that let you build forms and popups to your site and sync the data over to your HubSpot CRM. Your choice will have to depend on what tools you've used to set up your website.
Here, the top integrations we'll highlight are Unbounce and, surprise-surprise, HubSpot's own, free pop-up forms.
To help you choose between them, we'll highlight the pros and cons of each below.
Lead capture with the Unbounce integration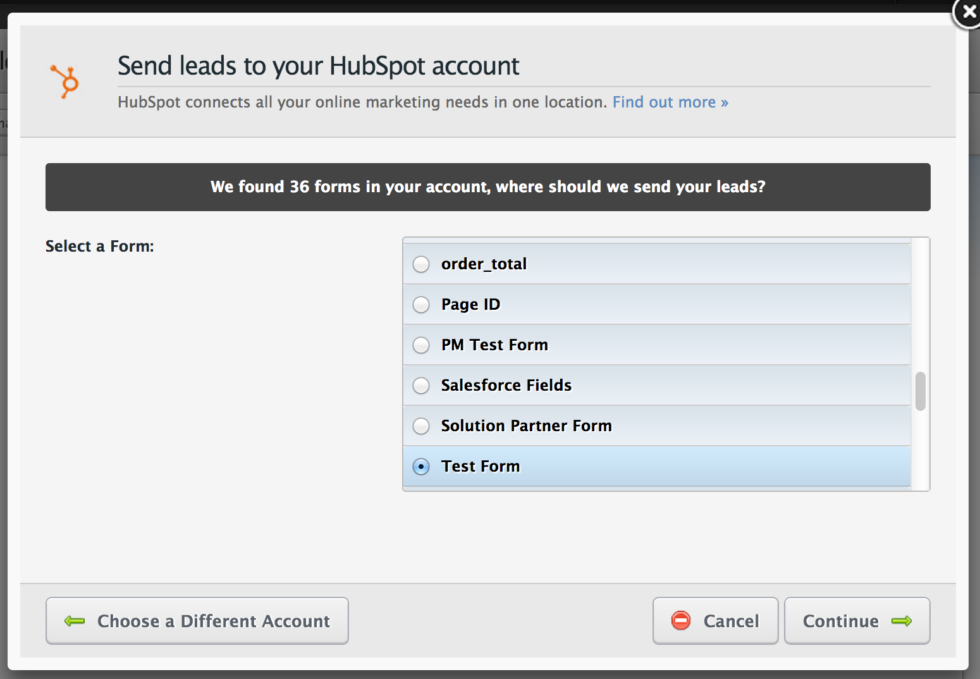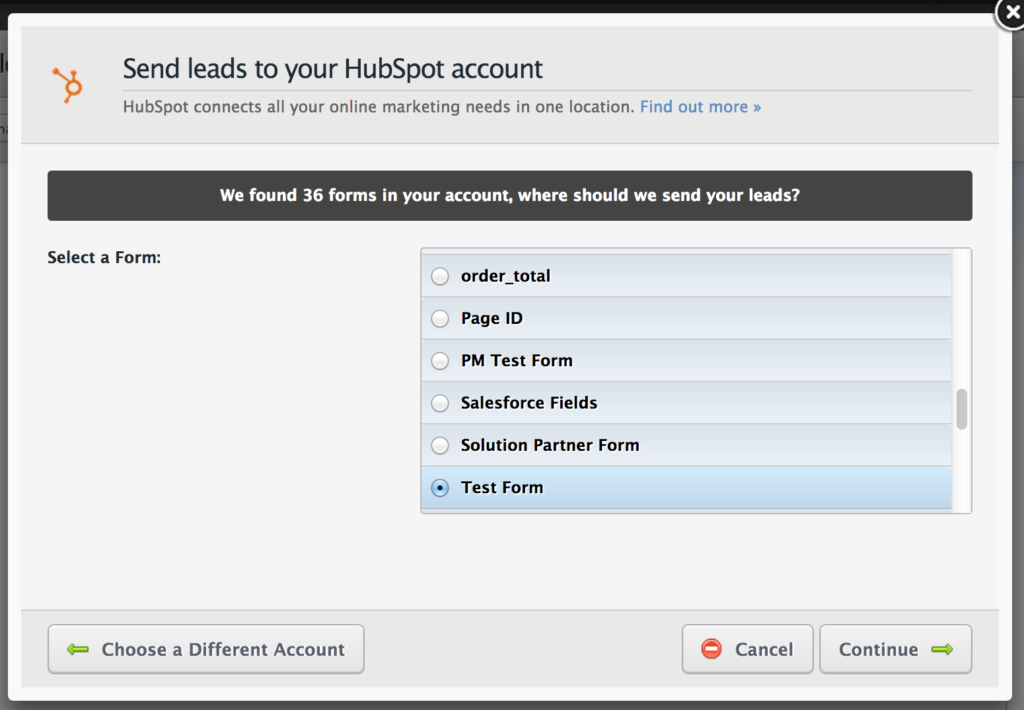 Unbounce is undoubtedly a very powerful conversion optimization tool, suitable for anyone from B2B to eCommerce. Lead capturing and conversion rate optimization (CRO) are their bread and butter.
The native Unbounce-HubSpot CRM integration helps make sure your HubSpot database gets automatically populated with lead info, like email addresses, collected in the custom forms.
Here's what an honest review on the HubSpot ecosystem says about Unbounce:

Pros:
Automated lead capture with forms, synced to your HubSpot CRM.
Create beautiful landing pages, from a template or from scratch.
Powerful features that help you test and optimize landing pages.
Cons:
Some features may need a little bit of coding
Unbounce's forms are pretty simple, so may not be suitable for you if you have very specific needs or wish to heavily customize
P.S. Our own HubSpot CRM-Unbounce integration is coming soon. Follow the link to read more and sign up for early access: HubSpot-Unbounce integration.
Lead capture with HubSpot's Forms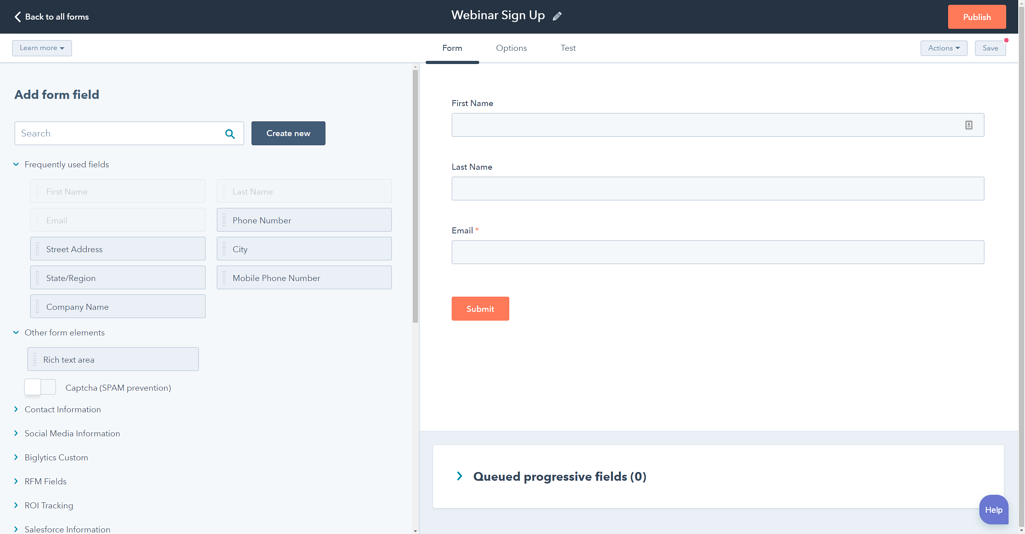 HubSpot offers a free pop-up forms tool. It may seem an obvious choice and indeed, many decide to get started with these. However, its free functionality is limited to just the forms, so you'll have to set up landing pages separately.
Pros:
Easy to set up forms that sync lead data to HubSpot CRM
Free plan is sufficient for most marketing-specific form needs
Cons:
Most style customization options are not available for free
P.S: If your website is built with WordPress or Wix, then you can consider the following integrations for syncing your leads into HubSpot CRM:
2. Send relevant marketing messages & see insights in the CRM aka the key marketing-sales integrations (Mailchimp, Outfunnel)
There are two main ways in which marketing data can help increase your sales productivity. When key marketing insights and data is synced to your CRM automatically, you can:
Determine the hottest leads at the right time and
Know what the lead is especially interested in.
There are a few HubSpot CRM integrations that can help you align your marketing data with sales. We'll highlight two of those here: Mailchimp and Outfunnel (that's us!).
Sync Mailchimp email campaigns engagement into HubSpot CRM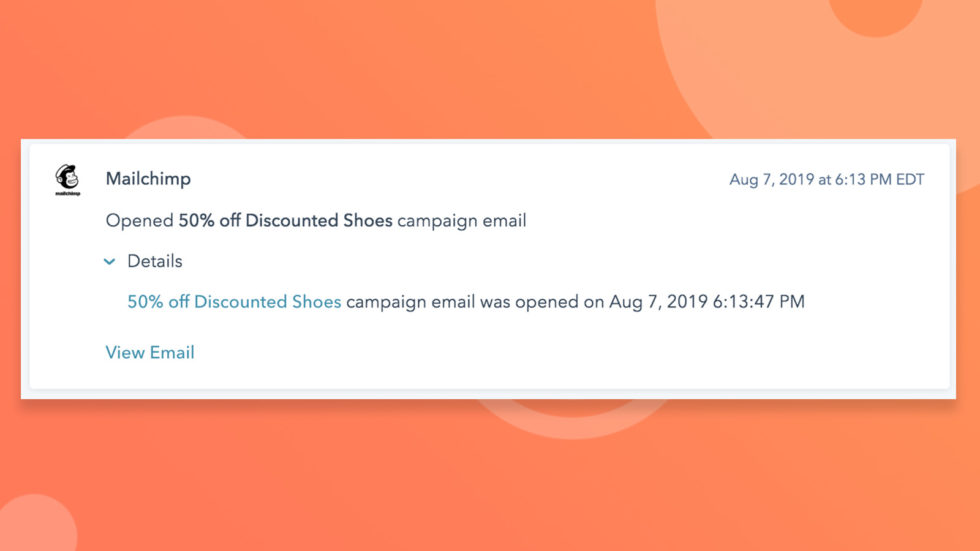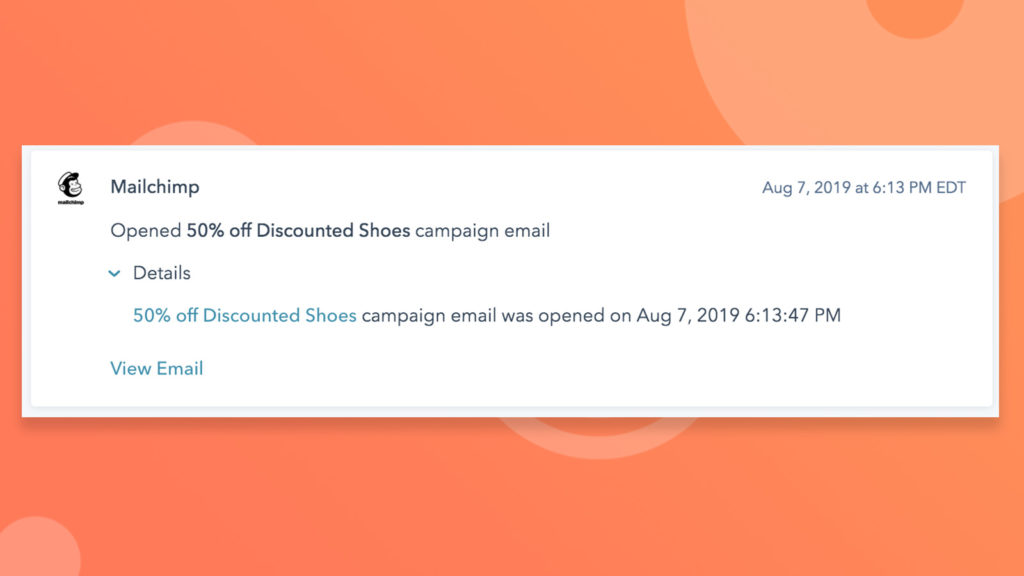 HubSpot's native Mailchimp integration will be helpful to you if your email marketing is already getting sent out with Mailchimp. The integration syncs your HubSpot CRM contacts to Mailchimp and sends Mailchimp email activity over to HubSpot (sends, opens and bounces).
Pros:
Automatically sync your contacts to Mailchimp
See email campaigns activity in HubSpot
Cons:
Sync only works one way (contacts & updates to them don't sync from Mailchimp to HubSpot) and for new contacts (existing contacts in the CRM won't be synced to Mailchimp)
Mailchimp can get costly if you have a lot of contacts
The alternative? You can also connect Mailchimp and HubSpot CRM with our App connector. Read more and try out Outfunnel's HubSpot-Mailchimp integration.
Affordable email sequences automation & insights for HubSpot CRM users: Outfunnel (yep, that's us!)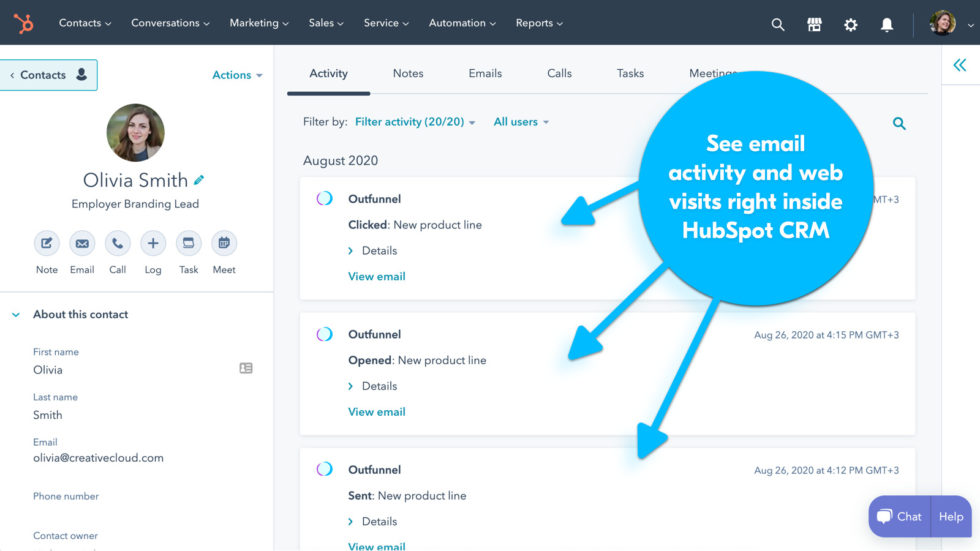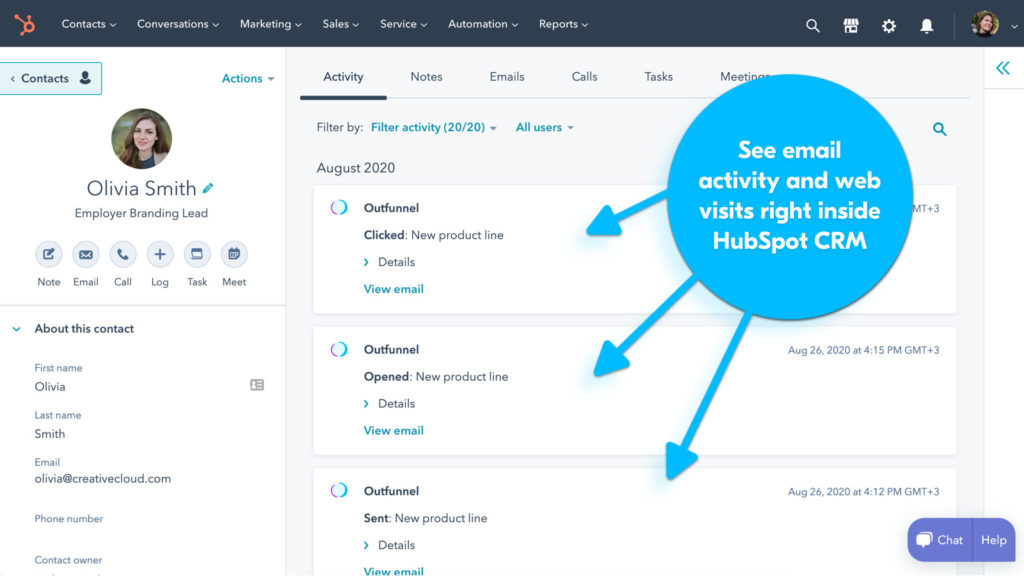 Does your email automation setup require all the functionality that the 800-pound email marketing gorilla (Mailchimp) offers?
If you're looking to send simple email sequences to automate follow-ups, and one-off email campaigns to nurture your HubSpot CRM contacts, the Outfunnel-HubSpot integration may just be what you're looking for.
While Outfunnel's App connector lets you connect CRMs like HubSpot with marketing tools like Mailchimp or ActiveCampaign, it also offers a simple email campaigns tool that plugs right into your CRM.
Further, you can use Outfunnel's Lead scoring features and Web visitor tracking functionality to give you a complete picture of your leads. Both your sales team and your marketing team are going to love this.
Pros:
Send automated email sequences to nurture leads (works as an alternative to HubSpot sequences).
See email engagement (opens, clicks, etc) in HubSpot.
Lead scoring and Web tracking help paint a full picture of which leads are hot.
Track ROI of email campaigns with the conversion report.
Plans start at just $19 per month.
Cons:
No support for building rich HTML emails, should you need them.
Outfunnel is the #1 top rated app on Pipedrive's app marketplace, and one of the newest ActiveCampaign integrations. Further, HubSpot users have rated it as 4.6/5 on the HubSpot App Marketplace. Try it out today with a free 14-day trial.
Connect your sales and marketing apps with Outfunnel
Works with Pipedrive, Copper and HubSpot CRM.
3. Sync HubSpot with your inbox (but not all of it) aka email inbox integrations (Gmail, Outlook)
Integrating HubSpot with your inbox allows you to easily log emails in the HubSpot CRM.
Pro tip: only log sales emails, not all email activity. In this way, you can avoid pulling in unnecessary info and spamming your contact pages.
Email inboxes, integrated with HubSpot CRM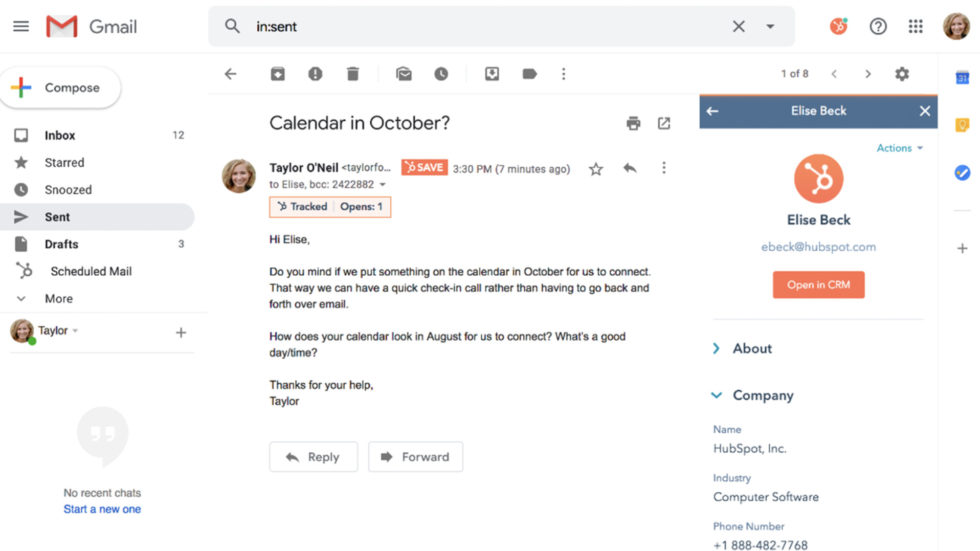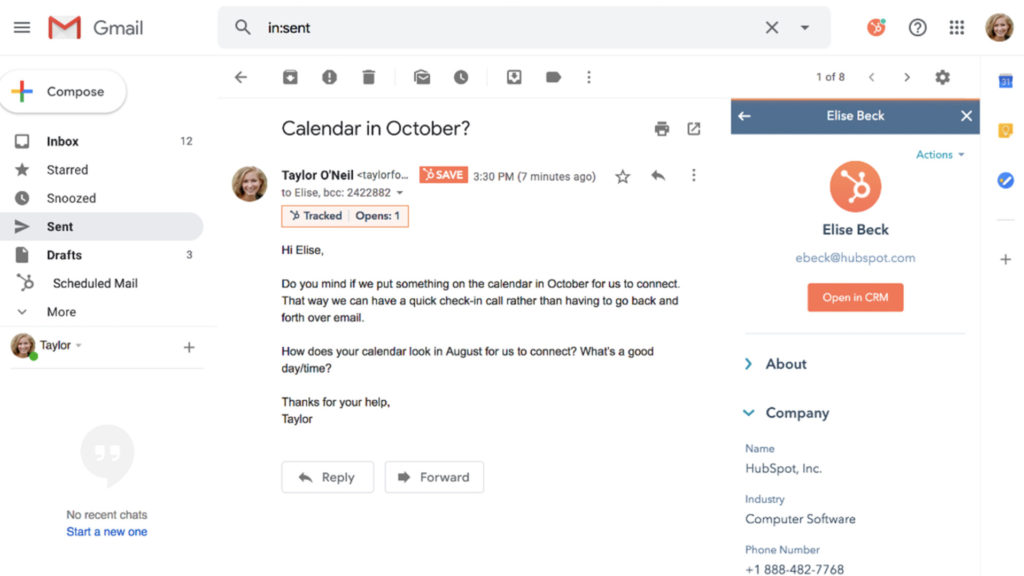 The Gmail and Outlook integrations work very similarly, so we'll review their pros and cons together.
Pros:
Keep track of your sales emails in HubSpot CRM
Use key HubSpot features in your inbox
Cons:
Email open and click info is only available to paid tiers of HubSpot Sales, which can become pricey
Contacts are not synced between your inbox and CRM
4. Access the power of LinkedIn outreach from within HubSpot
LinkedIn has become a powerful outreach tool for sales reps, a close second to email. The Sales Navigator is LinkedIn's sales management tool that makes it easy to find, contact and stay up to date with your contacts. With the Sales Navigator, you can message people outside of your network, do advanced searches, save leads and create custom account lists.
Now, pair that with HubSpot CRM, and what do you get? All the powerful features, inside HubSpot CRM.
Use the LinkedIn Sales Navigator inside HubSpot CRM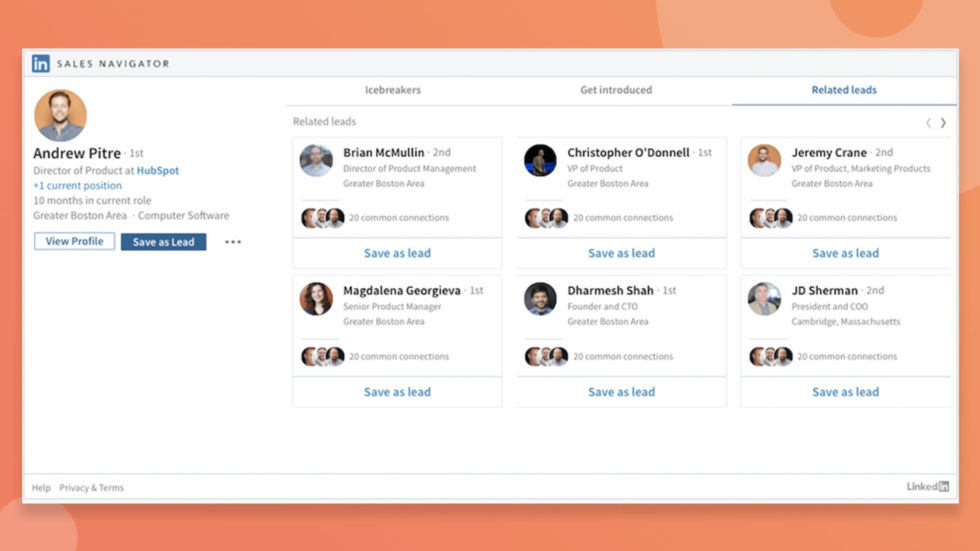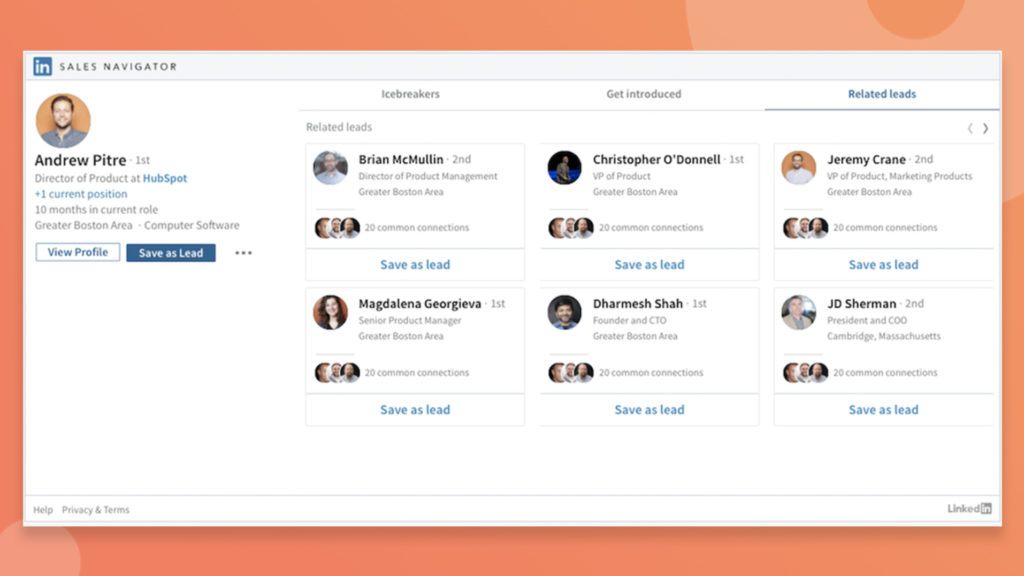 In short, here are the pros and cons of the LinkedIn Sales Navigator-HubSpot CRM integration:
Pros:
Send InMail directly from the contact record in HubSpot CRM.
View shared connections, experiences, and interests.
See key info on your company records to better understand your key accounts
Cons:
Requires the Team pricing of LinkedIn Sales Navigator, which can be too pricey for SMBs.
5. Sync conversations from social platforms to HubSpot (LinkedIn, Messenger)
Sometimes, sales conversations start via your social media channels, like LinkedIn or in your Facebook Page's messages. As if your email inbox wasn't enough of a challenge to stay on top of, right?
Well, fret not. There are integrations that can help you sync your social conversations to HubSpot CRM.
HubSpot LinkedIn integration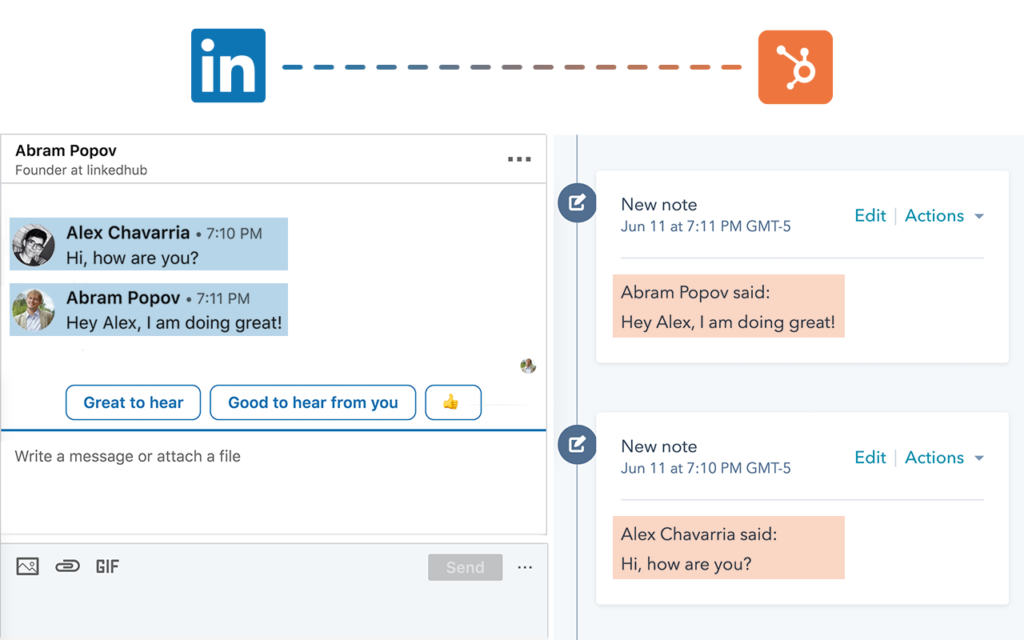 You can use the LinkedHub Chrome extension to sync LinkedIn conversations to HubSpot.
Pros:
Select which LinkedIn profiles you wish to sync to HubSpot.
Automatically log messages with chosen profiles to HubSpot.
Cons:
No official app on the HubSpot platform, but 2,000+ users and stellar reviews should give you enough confidence to try it out.
Sync Facebook Business conversations to HubSpot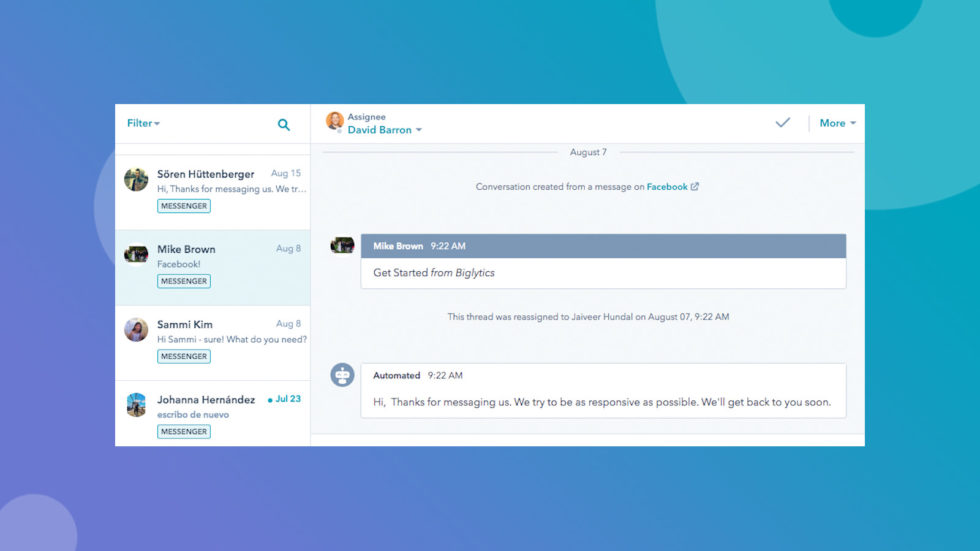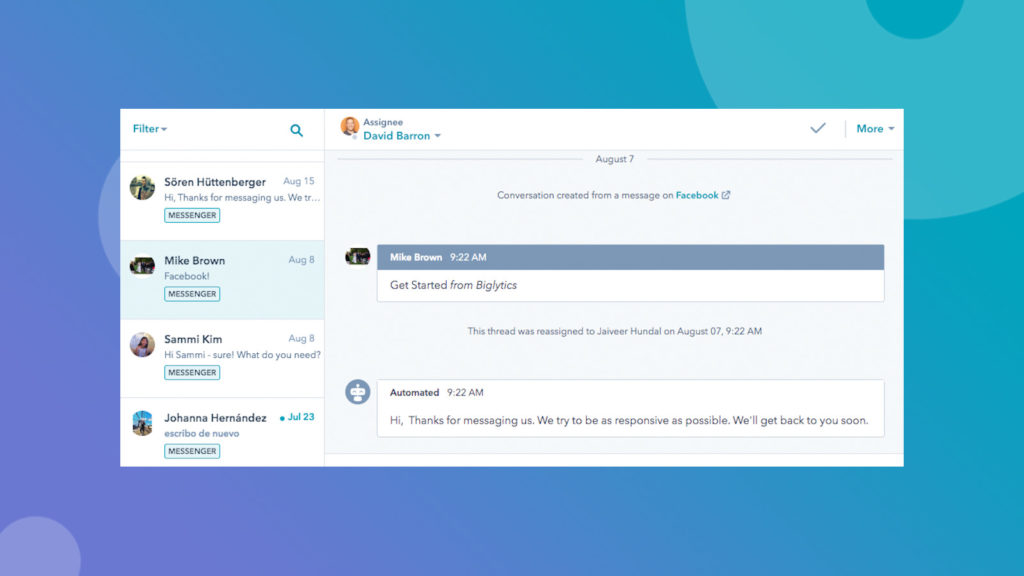 If you have a company page that people sometimes write to, the Facebook Messenger-HubSpot integration will help sure none of these fall through the cracks.
Pros:
Manage Messenger conversations real-time from HubSpot.
Create chatbots for your Facebook page, if you think that's a good idea.
Cons:
6. Ensure smooth calling with calendars, calling software, transcribing integrations
Calling is a key communication channel for salespeople. So, consider using the following calling and call-related integrations to make sure your calls go smoothly.
Easily create calls and meetings with the Outlook/Google calendar integration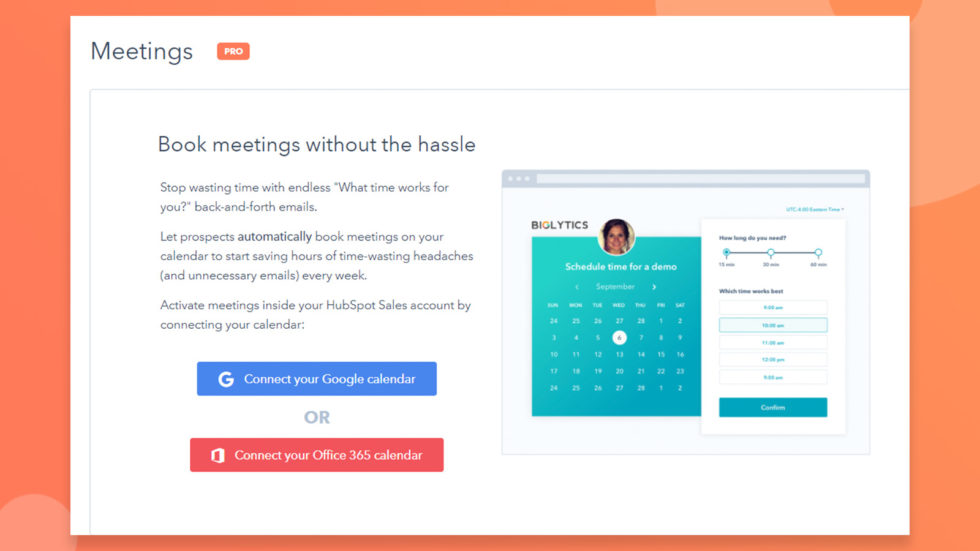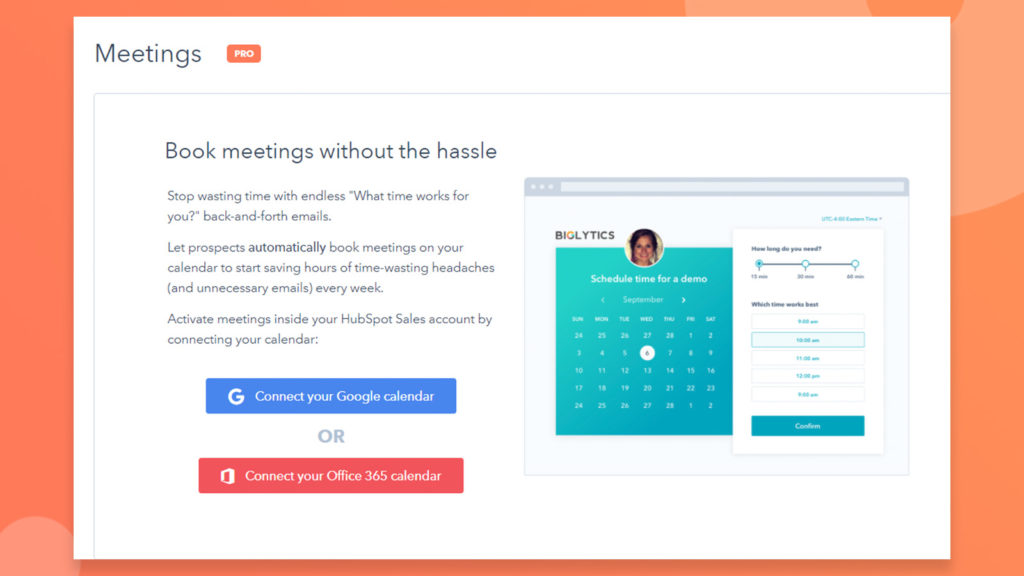 The Outlook and Google calendar integrations with HubSpot work the same, offering two-way integration with HubSpot so you can seamlessly schedule calls and send invites to guests.
Pros:
Simultaneously log a meeting in your CRM, create a calendar event for that meeting, and send invites to meeting guests.
Connected with the HubSpot meetings tool, your prospects can book a time that works for both of you, without the back-and-forth of email.
Cons:
Some reviews say the integration makes the calendar slow.
The functionality is pretty basic, and does not allow for easy rescheduling, for example.
Manage calling workflows with the Aircall integration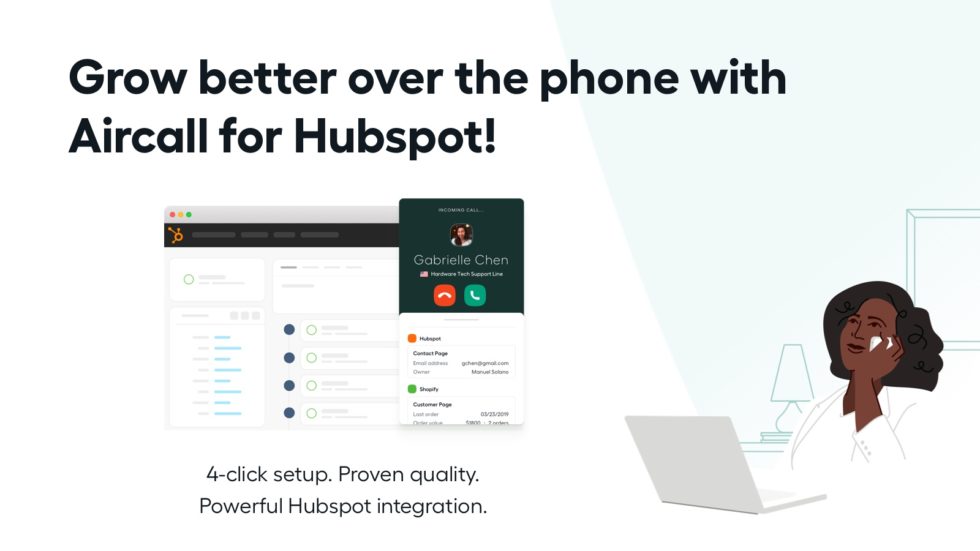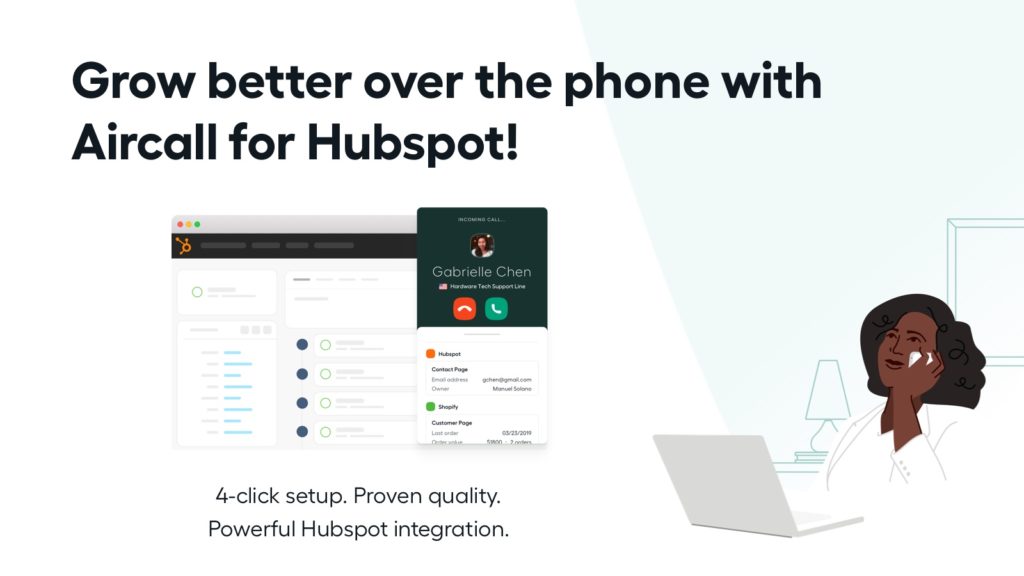 Aircall is a great telephony app for sales and support teams. The Aircall-HubSpot integration creates a cloud-based phone system right inside HubSpot CRM. However, do note it is only useful if you have at least 3 agents or more, as Aircall's plans do not accommodate teams with fewer agents.
Companies with 50-200 employees that have a lot of sales and support calls can really benefit from it though. See Natan's review as proof:
Pros:
Place outbound phone calls inside HubSpot with just a click, or load a list of contacts in the Aircall phone for automatic outbound dialing.
Your HubSpot contact and deal information is displayed in Aircall's phone app, before even answering the phone.
Calls will be logged automatically in the HubSpot timeline of the right contact, along with details like call notes and call recording.
Cons:
It is quite costly, so only for larger businesses will really benefit
7. Wow your prospects with beautiful proposals and quotes
All your marketing efforts will go to waste if you don't close the deals, right? If you're in a field where brand matters, it's worth putting in extra effort to make your sales materials look top-notch. It will make you stand out and leave a lasting impression.
Create and send impressive sales documents without leaving HubSpot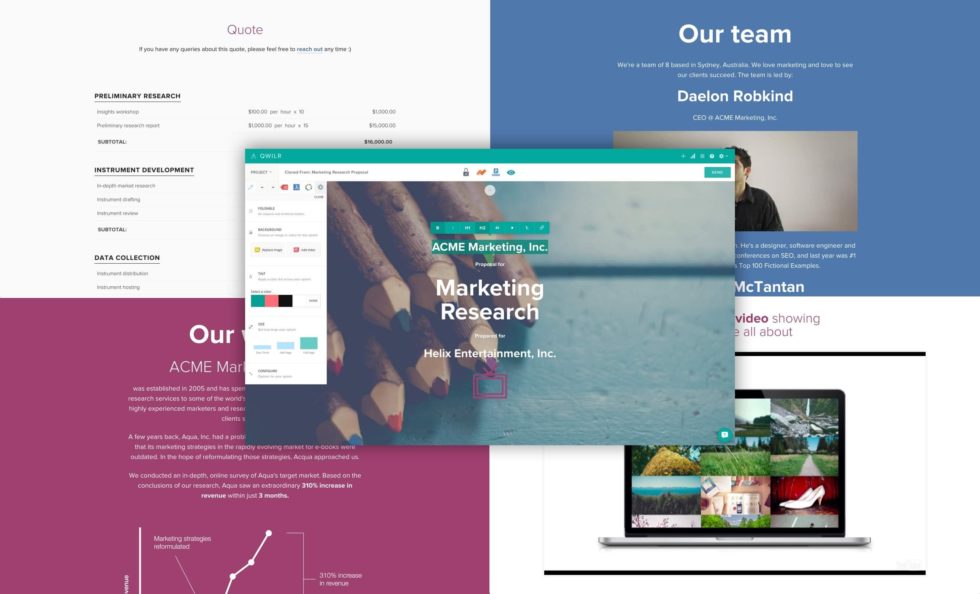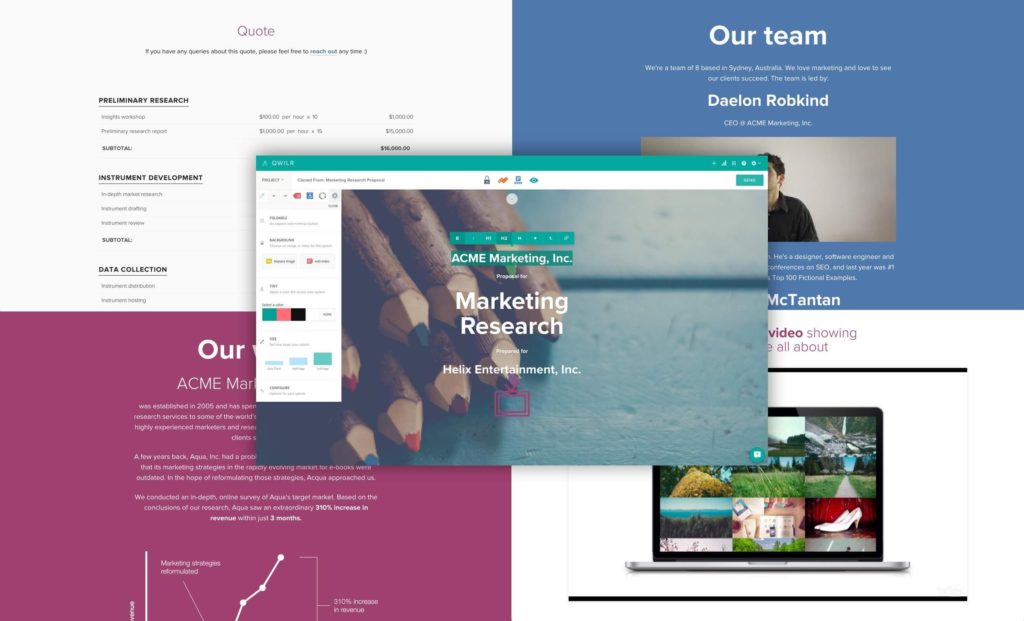 The Qwilr-HubSpot CRM integration may just be the best kept secret on the App Ecosystem. Use it to create, send and track your good-looking sales documents.
Pros:
Quickly create personalized proposals, quotes and presentations
See document activity (views and acceptance) right in HubSpot
Autofill document content with client details from HubSpot
Cons:
Pricing may be a turn-off if you're not sending a lot of sales materials
Bonus for eCommerce businesses: Make data management for your eCommerce store easy
If you run a successful eCommerce business, then you know just how much data your systems process. Managing it can get challenging for businesses and this is exactly where using a HubSpot integration can help you.
Integrate and manage your WooCommerce store with ease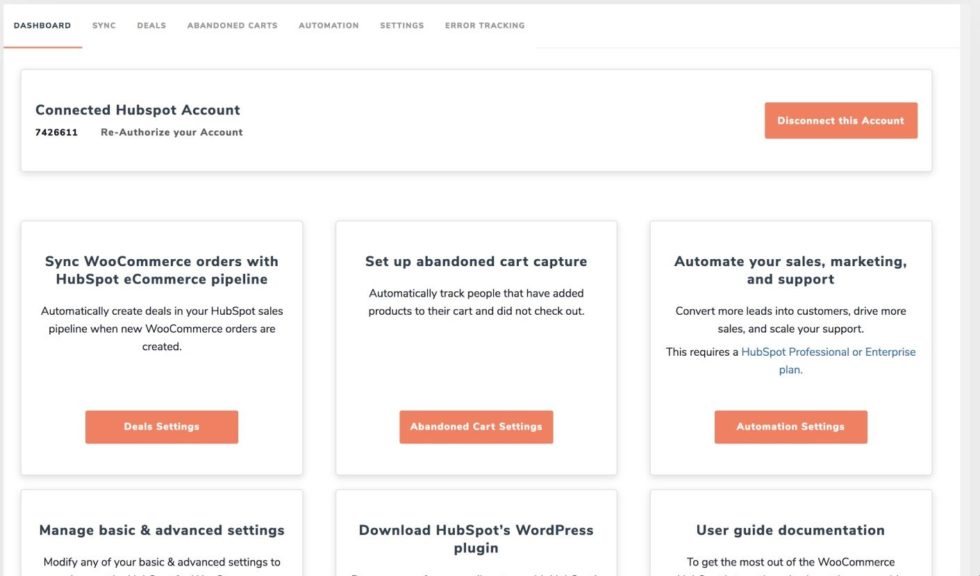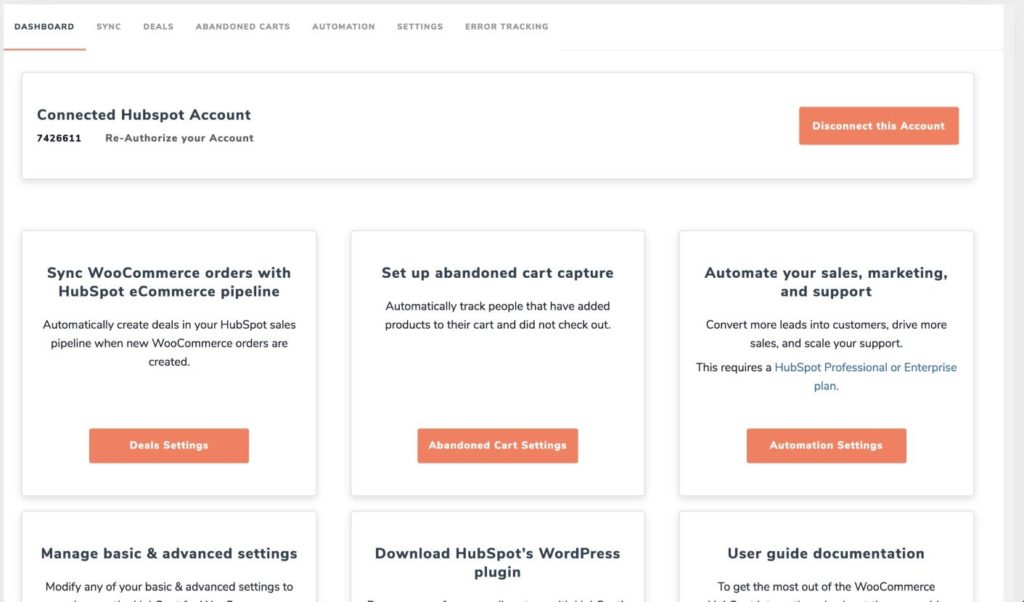 WooCommerce by MakeWebBetter integrates your WooCommerce store with HubSpot. Developed by MakeWebBetter, this app also helps you in data syncing, abandoned cart recovery, sales and marketing automation.
Pros:
Helps you track and recover abandoned carts with workflows
Lets you segment users as per their characteristics
Cons:
Synchronization may take a while if you've large amounts of data
---
Whew, we're really glad so many tools prioritize building integrations these days, so your developers don't have to mess around with API themselves.
Now, over to you! Did we miss any great HubSpot CRM integrations that power up sales productivity? Are you using other tools like Wistia, Pandadoc or Zendesk to power up your HubSpot setup? Let us know in the comments.
Here at Outfunnel, we are all about connecting sales and marketing tools. We've already mentioned the Mailchimp integration, several web form integrations, and our HubSpot-ActiveCampaign integration is equally popular.
We are plannng to launch a ton of useful CRM-marketing integrations in 2021. Below is our current shortlist for HubSpot CRM. Follow the links and sign up for early access, if you're interested:
Outfunnel is #1 top-rated Pipedrive integration and is now offering affordable marketing integrations as well as simple email marketing automation for HubSpot CRM users. Try it out with a free 14-day trial today.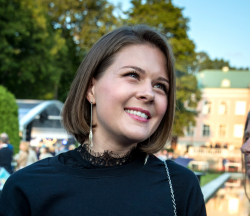 Latest posts by Katheriin Liibert
(see all)